All posts
Published on 6 de November, 2018 at NGOs
Why strategy fails?
Often, organizations are provided with an internal self-thinking process and strategic planning that culminates in a document that compromises the future performance of the organization. Therefore, to have a strategic plan it seems a must for universities, cities and metropolitan areas, as well as large private corporations. Lately, however, it seems that strategic plans has been dampened and it may be appropriate to outline a provisional balance. At U·TRANS, as a result of our experience, we have some ideas that we would like to share.
How to assess?
The need for strategy provision still remains clear: any organization needs to take a break to know what results gets and how it can be improved.
To assess performance in business is easier than in the non-profit sector because goals are firmly settled.  On the contrary, in the public sector, the fulfilment of objectives remains more unclear and it is quite complicated to generate an internal dynamic of change and improvement when citizens demand the service they deserve. In the Third Sector (non-profit organizations), setting goals and outputs is also a hard work because expectations vary among professionals and volunteers, and that can create confusion.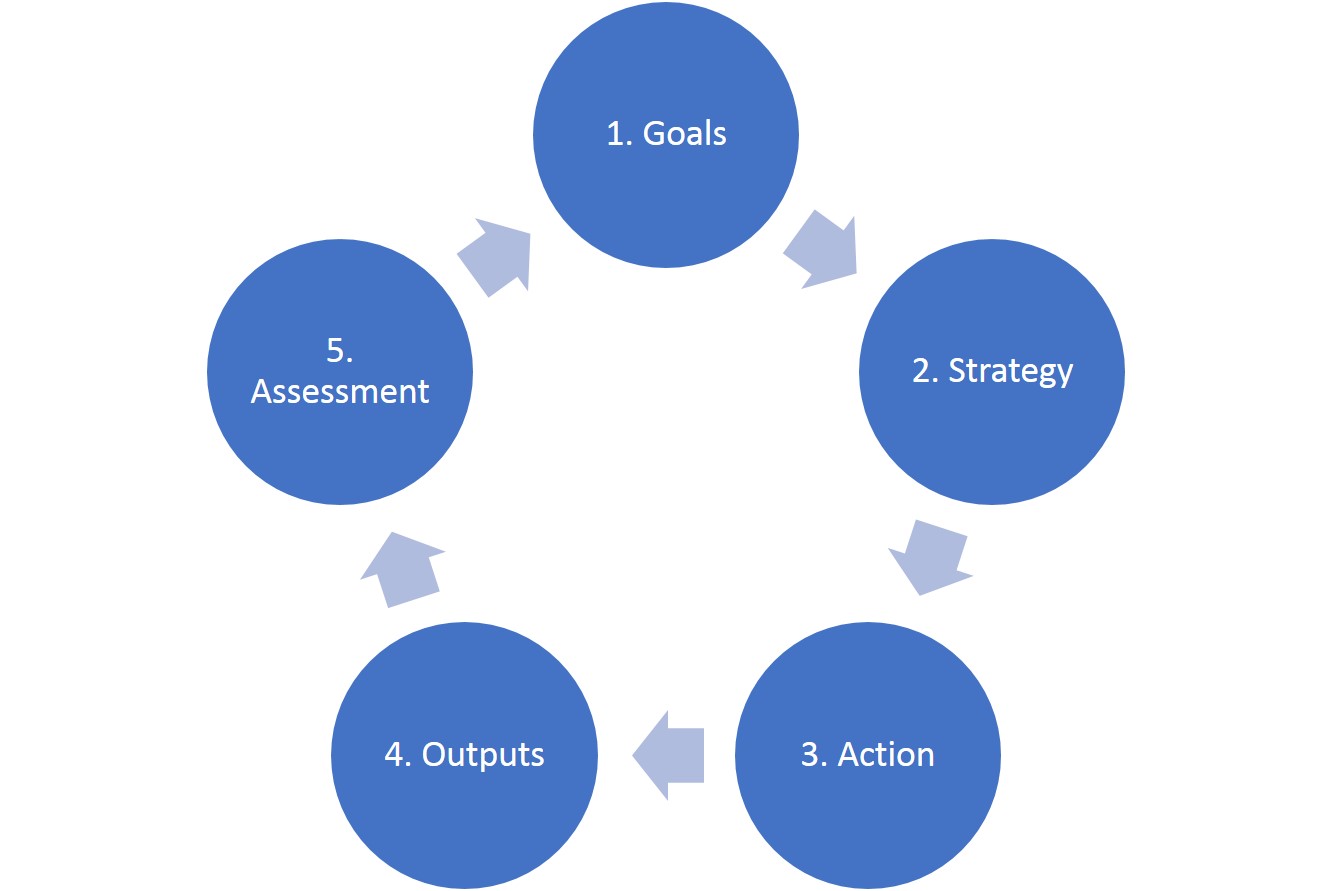 Whatever the case, the setting of clear objectives is the previous step in setting a strategy to achieve the desired results. The evaluation of them allows to set new goals. This way of working has clearly marked the lives of multiple organizations and no one prestigious author can deny it.
However, to rule an organization accordingly to its strategy is not easy, it has to pay a cost in time and effort to achieve internal alignment.  In addition, it requires hard intelligence and some organizations do not have this function incorporated, so they often need external support that will support them in their process of strategic reflection.
But what is the strategy?
Experience teaches how the strategy, to become really applied, goes far beyond than having a paper that details actions and the processes that allow them to be implemented. The strategy is an attitude, a way of working, the ethics of work, the style that identifies the organization through its actions. So, must we be very detailed in defining the particular actions that a Strategic Plan must contain? Well, once again, experience says no. Where it is necessary to be much more specific is in the attitudes of people who carry out a task within an organization, be it voluntary or professional. Goal setting, action planning, to agree on evaluation methods … all this is necessary but not enough.
People needs to change their attitude and mental frameworks in relation to their workplace and their willingness to do their work in a certain way, as stated by the organization goals and social mission. A strategic plan by itself hardly makes any changes, and this is important, because the underlying conception that has traditionally accompanied the processes of strategic planning has devoted little attention to thinking about how it can be made easier for people who work in organizations to adopt new attitudes that are closer to the horizons that the entity wants for its future.
How do we promote the strategy?
Therefore, as a fundamental part of the strategy of an organization, it is essential that this be said about what it is and what should be the attitude of its members in relation to their professional or voluntary work.
It is about establishing "guides" or "levers of change" that will have a trigger effect for organization because they correspond to attitudes that must always be prioritized when working. The "levers of change" are the ways of doing, the style, the footprint in the actions, the work spirit that allows the well-done work, the ethics of corporate action, the guides that govern the job performance as professionals.
To conclude, it is worth pointing out that from U·TRANS we are convinced that the procedure to design a strategic plan should incorporate steps such as:
Identify objectives, after elaborating an internal and external diagnosis centred on the company or organization
Determine the areas of action, business areas or axes of intervention
Focus on what must be the attitude the organization needs of its professionals, thus identifying the levers of change
Establish the projects and tasks to be developed, but in a simple way, granting flexibility to professionals to adapt to the changing reality and context
Establish the system for evaluating and monitoring the expected results
Communicate
Dedicating resources and efforts to draft a strategic plan and then not applying it is a very disappointing circumstance, and it discredited a tool -the strategic plan that still has a tremendous potential for change and improvement within organizations.